About The Nelson Chapter
The Nelson Chapter of Cycling Without Age got started in September of 2017 when Wendy Baker-Konkin became a CWA affiliate. She began talking to everyone she knew and everyone she didn't know about the great idea that began in Copenhagen in 2012. Luckily, she was giving flu shots in October and happened to meet Bob Schmitz. She shared her excitement about the organization and he was so enraptured with it that he came back the next day to declare he and his family would love to purchase a trishaw to get Nelson's chapter rolling.  It became apparent that fundraising would still be necessary to cover operating costs, including insurance, maintenance, safety equipment and storage. Bob and Wendy recruited a third partner, June Spearman, so they would meet the 3 director minimum requirement of an incorporated society in British Columbia. CWA Cycling Society of Nelson, BC was successful in obtaining grants  through FONE (Friends of Nelson Elders in Care) and Columbia Basin Trust Community Initiatives Program. CWA Nelson has also been generously supported by Save-On Foods,  Kootenay Co-Op  and Secret Service Cycles. Our first trishaw, Hazel, arrived in May of 2018, and we have been actively recruiting and training pilots, participating in community events, building ridership and SPREADING JOY ever since.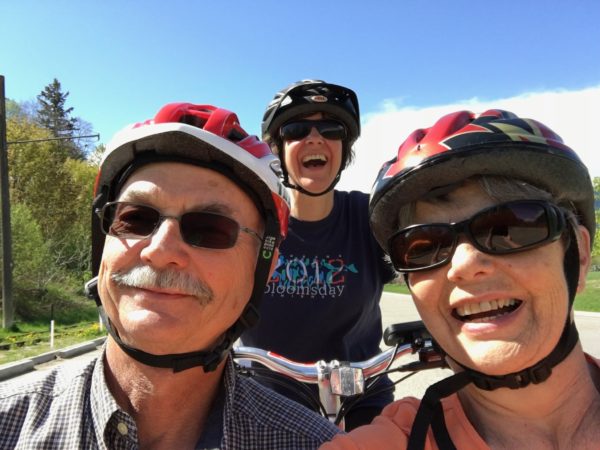 The Nelson Team
Wendy Baker-Konkin   wendy@cyclingwithoutage.ca
Bob Schmitz                     kootenaybob@gmail.com
June Spearman              cwanelsonrides@gmail.com
Would you like to get involved?
Cycling Without Age Canada is being established in cities and communities throughout Canada. Some already have bikes and some are at the fundraising stage.
You can help local chapters by volunteering, donating towards a trishaw bike, offering coffee for cycling parties (if you're a business owner). Get involved to help your local chapters grow and flourish.
Contact Cycling Without Age, Nelson   cwanelsonrides@gmail.com    250-505-1999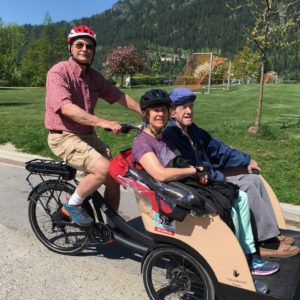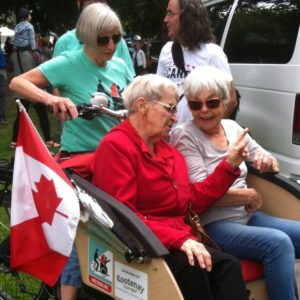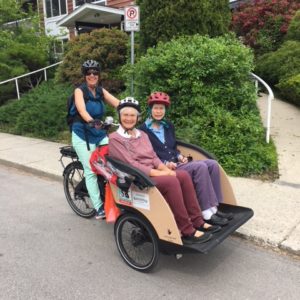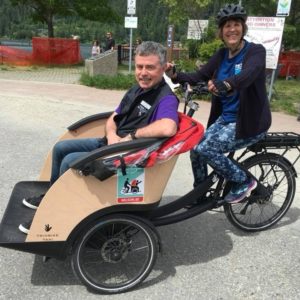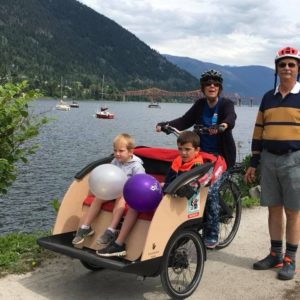 CWA Nelson  was pleased to be invited by Gord Shannon to participate in the annual Nelson ALS fundraiser walk in June.
The event raised over $25,000.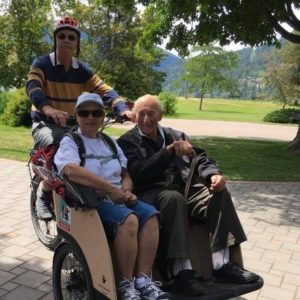 Coffee friends
Chapters with trishaws
New chapters fundraising for trishaws