"Freedom!", an elderly lady cries out loud, as we're all sitting in a circle at the local nursing home. We're sharing memories of cycling and what cycling means to each of us. Everyone nods and we all agree that cycling is about freedom, joy, and adventure, which can be hard to come by if you're in a nursing home.
We have come to understand that freedom is what most people associate with cycling. From their first bike as a child to the first solo adventures in the neighbourhood and longer rides into cities and nature.
This is your starting point for learning more and purchasing your piece of "freedom technology" – the trishaw.

---
The Ami by Cycles Toussaint
Cycles Toussaint's Ami (pronounced "ah-mee", French for a friend) is a throwback to an era when going for rides with friends was effortless and dreamlike. Ami's styling draws from the classic French bicycle designs of all Cycles Toussaint products. Our cruiser features a cream frame, silver accents, leather bike seat and handgrips for the pilot. Passengers enjoy the handsome wood grain box accentuated by brown seat cushions, seat belts, fleece-lined blanket and removable sun canopy for that top-down experience.
The robust 500 Watt electric motor, battery capacity, and trustworthy gearing selection will enable pilots the confidence to conquer a wide variety of terrain in style. Ami is delivered in an efficient and economical manner which saves owners money on shipping costs. Owners will receive 3 flat packed boxes and should plan approximately 1 day for assembly. Some tools and enthusiasm required.
Available at:  Cycles Toussaint
---
The Chat by Van Raam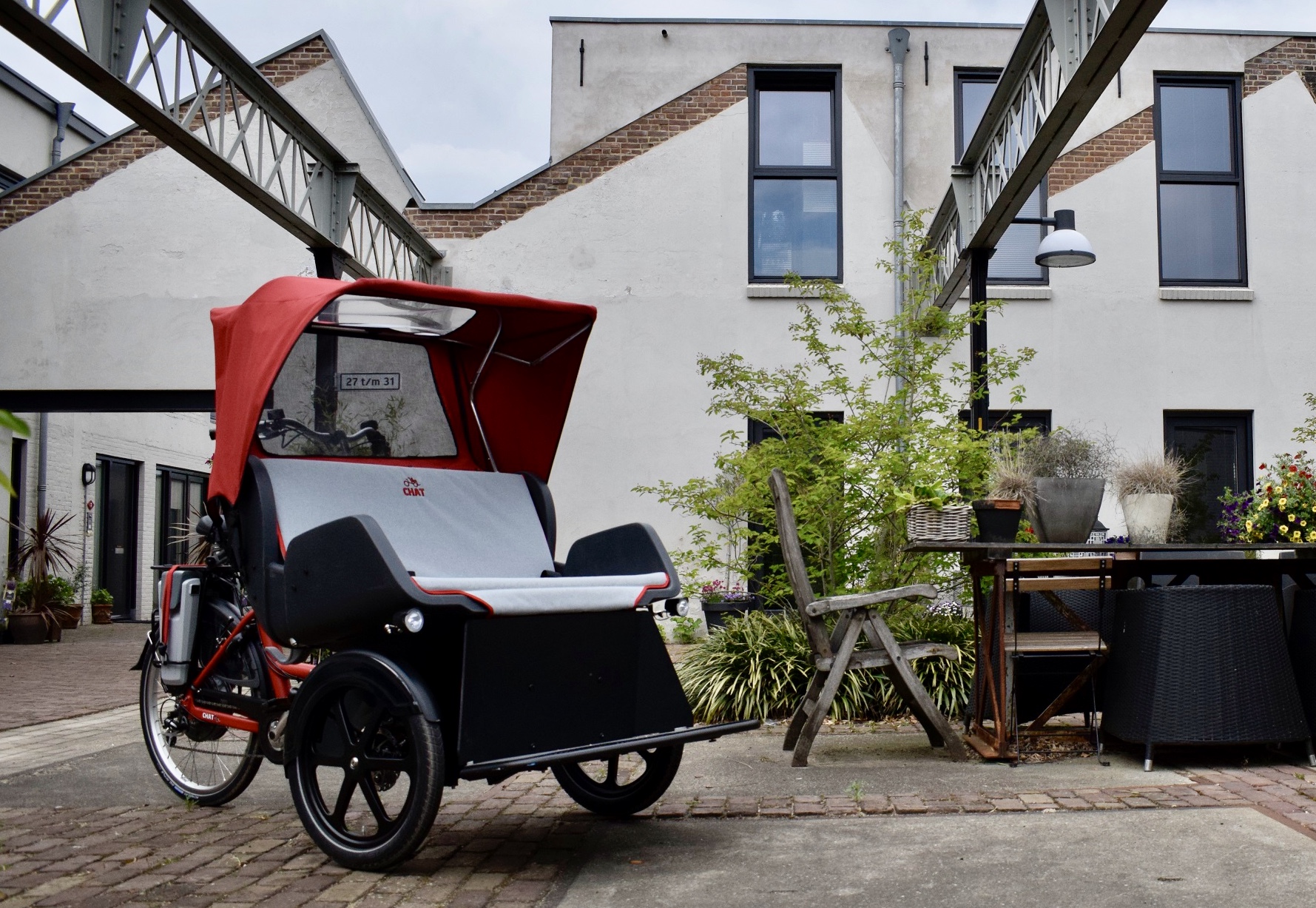 The Chat is a new trishaw model developed over an 18-month period by Van Raam, a company that has been designing and manufacturing quality adaptive cycles in the Netherlands since 1974. The Chat features a 1-meter wide cushioned seat, with a front footrest that lowers completely to the ground, activated by the pilot from behind the passenger box. The passenger box rests on a spring suspension, which absorbs some of the road bumps and makes the ride for the passengers more comfortable.
The Chat comes with a 60 Nm electric-assist motor that can be controlled both by a console on the handlebar and by the Van Raam App on your smartphone. It even has a 'reverse gear' – you simply pedal backward, and the Chat backs up! The 8-speed derailleur offers plenty of gearing options. The cast aluminum front wheels provide strong support for the passengers and the trishaw.
Available at: Hamilton Trike and  Prairie Velo
---
The Model T by Christiania
The Christiania is a classic in Cycling Without Age. When founder Ole Kassow started the organization in 2012 he used an old rented, de-commissioned Christiania. The model had gone out of production, but the blacksmith was intrigued by the idea of using the trishaw as a social tool and was easily talked into re-starting the production of their old model.
Cycling Without Age helped Christiania introduce several improvements making it more elderly-friendly. Such features as a lowerable footrest, softer cushions, and a chat window were developed by local Cycling Without Age affiliates and inspired Christiania to improve their model.
Available at:  Copenhagen Cycles
---
The Nihola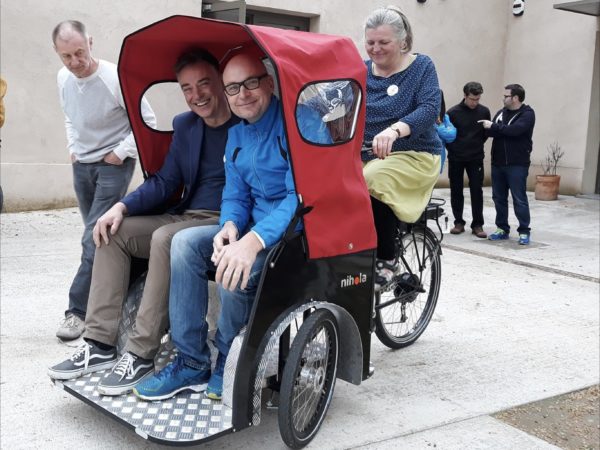 This unique trishaw has a separate turning system for the front wheels, which provides a better balance when turning. The bike is made in Denmark by Niels Holme Larsen and his team. They have over 20 years of experience building high-quality cargo bikes. One of their feats is to have supplied the Danish postal services with their 1,600 Post Bikes and the Danish royal family with their Nihola Family.
The Nihola Trishaw is auto-battery-powered and works without using a throttle on the handlebar. It is wide enough to seat 2 persons and the footrest is low enough so that passengers easily can enter the trishaw. Hood and blanket are made of solid weather-proof material. We always recommend buying an extra battery for long trips or when using the bike a lot.
Available at:  Copenhagen Cycles and Curbside Cycle
---
The Taxi by Triobike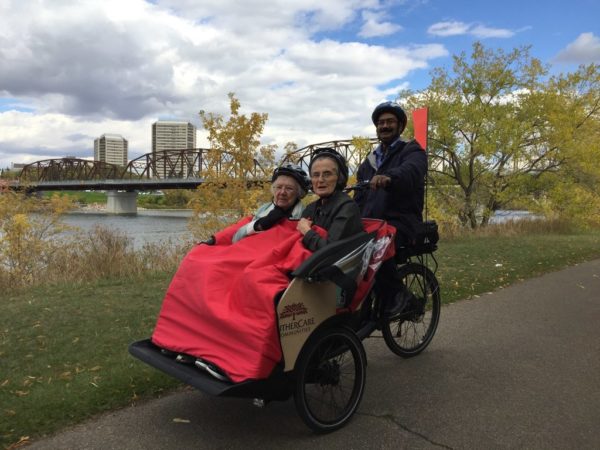 The new Triobike Taxi is easy to ride, steer and comfortable for riders and passengers. It is designed to be practical and stylish at the same time. It's primarily designed to carry adults, especially elderly people but also anyone with mobility issues. With 90 cm of inner width, the passenger seat is among the most spacious on the market. Its ergonomic design ensures a very relaxed sitting position as well.
Available at:  Copenhagen Cycles, Velo Life Style and Allo Vélo