Coming To A Cycle Path Near You!!

Cycling Without Age is an international program in 38 countries for mobility challenged people to help them enjoy the fresh air and scenery of their surroundings from the front of a trishaw.
The closest operating chapter to us is in Victoria and one in Vancouver is starting this Spring. The North Shore Chapter is hard on their heels with a vibrant group headed by Ian Rose-Innes, an active member of the West Vancouver Seniors' Activity Centre and the associated cycling community. The Chapter will serve all residents of North and West Vancouver, free of charge, and be owned and operated by Silver Harbour Seniors' Activity Centre Society, with support from the West Vancouver Seniors' Activity Centre.

Please Help Us To Fundraise – We need to buy two trishaws!
Built in Denmark and periodically imported to North America, it takes several months to get a trishaw. We are targeting an initial purchase of two trishaws by the spring of 2020 and we have launched our fundraising campaign to make this happen.
We are inviting donors to purchase components of the trishaw from the list below.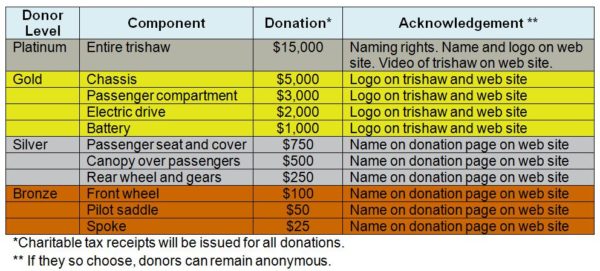 Here is the link to our Donation Page:
Cycling Without Age North Shore Fundraising
If you think that you, a family member or friend or someone who would benefit would like to take a ride in one of the seats on a trishaw, donate a component, make it happen and be part of a legacy! Buy your component today!
Thanks for your donations!
Chapter News
Our latest Chapter News comes via our Twitter Feed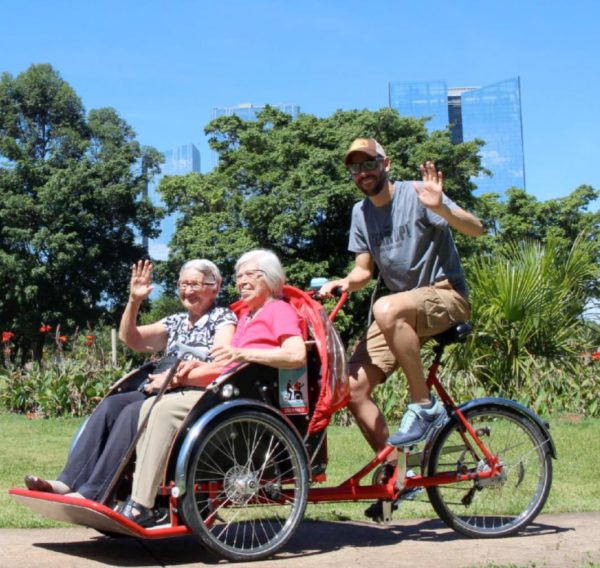 About Us
The North Shore Chapter of Cycling Without Age was initiated by retired engineer Ian Rose-Innes. A good friend had been diagnosed with a brain tumor and after surgery, radiation and chemo he was rather degraded. Ian wanted to take him for bike ride along the False Creek sea wall and for a cup of coffee at Olympic Village, but not one of the bike shops he tried in Vancouver had equipment that he could use to transport his friend. So when he encountered Cycling Without Age, which provides rides for those with mobility challenges on a trishaw, it really struck a chord. He started to work on the creating a North Shore Chapter which is now a reality.
The North Shore Team
• Annwen Loverin, Executive Director, Silver Harbour
• Jill Lawlor, Seniors' Services & Community Wellness Manager, WVSAC
• Ian Rose-Innes, Chairman
• Vacant, Safety and Quality Assurance Officer
• Mark MacAulay, Maintenance Manager
• Jane Reid, Operations Manager
• Fiona Walsh, Volunteer Coordinator
• Will Schuurman, Passenger Partnership Manager
• Gerrit van der Merwe, IT Manager
• Don McPherson & Simon Russell, Committee Members
You can reach us by email at: North Shore Cycling Without Age
Facilitators
Organizations helping us through providing operational support in various forms include:
• Park Royal – hosting a base
• City of North Vancouver – hosting a base & trail modifications
Volunteer Pilots Needed
We are actively looking for volunteers, including pilots for Spring and Summer 2021. If you are interested, please don't hesitate to contact us by email at: Volunteering at Cycling Without Age Northshore
Donor Acknowledgement
Platinum Donors:
Gavin Bamber, North Vancouver
Gold Donors:

Robert and Margaret Bear, Vancouver

And Anonymous Donors
Silver Donors:
Hamish Kerr, West Vancouver
Ian Rose-Innes, North Vancouver
Ernest Bodie, West Vancouver
Irene Dougans, West Vancouver
Jeremy Haile, North Vancouver
Graham McIsaac, West Vancouver
Mark MacAulay, North Vancouver
Michael Cormack, West Vancouver
Bruce Rose-Innes, Vancouver
Neil and Dot Heidstra, North Vancouver
Elizabeth Lloyd, North Vancouver
Deep Cove Lions CLub
Many HUB North Shore members
And many Anonymous Donors
Bronze Donors:
Lois Ross, West Vancouver
Peter Scholefield, West Vancouver
Dianne Murray, North Vancouver
Merle Lister, West Vancouver
Arnie Mohr, Cape Town, South Africa
Chris Heming, West Vancouver
Sally Sutherland, North Vancouver
June Patterson, North Vancouver
Mary Eggertson, West Vancouver
Marcel de Booy, Vancouver
Joan Deeks, West Vancouver
Julie Robinson, West Vancouver
Donald Allan, West Vancouver
David Insley, North Vancouver
Ian Walton, West Vancouver
Carol Campbell, North Vancouver
Elizabeth Guilbride, West Vancouver
Deborah Maloon, West Vancouver
Kathy Riley, West Vancouver
Cedric Carter, West Vancouver
Phyllis Ferguson, North Vancouver
Thor Hugdahl, North Vancouver
Leslie Calder, Vancouver
Heather Ireland, West Vancouver
Joan Cockell, North Vancouver
Ann Thur, North Vancouver
Dave Perfitt, North Vancouver
Heather Drugge, North Vancouver
Tony Valente, North Vancouver
Brook Davison, North Vancouver
Antje Wahl, North Vancouver
Nancy & Don Piercy, North Vancouver
Desmond Bell, North Vancouver
Silverline Security Locksmith Ltd.
And many Anonymous Donors