About CWA
Cycling Without Age is a global not-for-profit, founded in 2012 in Denmark. Volunteer "pilots" take elderly passengers for bicycle rides in a trishaw. The pilot pedals in the back and two passengers ride in the front. Cycling Without Age works to improve the lives of the elderly by promoting intergenerational relationships and providing seniors with an opportunity to connect with neighbours, nature and fresh air.
About the Vancouver Chapter
Founded in the spring of 2018 the Vancouver Chapter has purchased their first trishaw and expect to be operational by June 2019.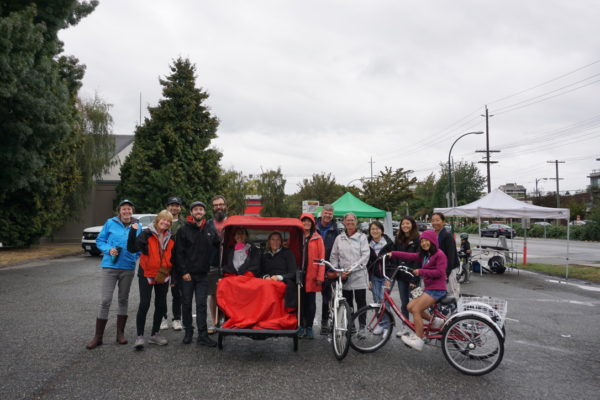 Vancouver milestones:
CWA Vancouver meets Ole Kassow, the Copenhagen-based global founder, March 2019
Contact
Cycling Without Age Vancouver
jenreid@cyclingwithoutage.ca
Our Guiding Principles
Generosity: Cycling Without Age is based on generosity and kindness. It starts with the obvious generous act of taking one or two elderly or less-abled people out on a bike ride. It's a simple act that everyone can do.
Slowness: Slowness allows you to sense the environment, be present in the moment and it allows people you meet along the way to be curious and gain knowledge about Cycling Without Age because you make time to stop and talk.
Storytelling: Elderly people have so many stories that will be forgotten if we don't reach out and listen to them. We tell stories, we listen to stories on the bike and we also document the stories when we share them via word of mouth or on social media.
Relationships: Cycling Without Age is about creating a multitude of new relationships: between generations, among the elderly, between pilots and passengers, nursing homes employees and family members. Relationships build trust, happiness and quality of life.
Without Age: Life does not end when you turn 75. Life unfolds at all ages, young and old, and can be thrilling, fun, sad, beautiful and meaningful. Cycling Without Age is about letting people age in a positive context – fully aware of the opportunities that lie ahead when interacting in their local community.
Cycling Without Age Facts (As of March 2019)
Invented in 2012 in Copenhagen
Represented in 42 countries worldwide
1,643 chapter locations
2,200 trishaws
29,270 trained cycle pilots
114,000 people served
Oldest pilot is 90 (Jørgen Hass, Denmark) and oldest passenger 107 (Madam Yeo Iu, Singapore)
Our trishaws cycle 2.8 million km a year or 70 times around the world
Find out how it all started in Copenhagen
Meet Fraser and Mary from Scotland