WHO WE ARE
Cycling Without Age is a global movement started in 2012 in Copenhagen. We aim to reach and improve the lives of the elderly and break them free from social isolation. We take them for rides to enjoy fresh air, and conversation, and together, we create memories and smiles. Each CWA Chapter organizes its own operations and works with the volunteers in its community. BC and Canadian CWA chapters.
About the Vancouver Chapter

Broadway Lodge Rides Summer 2021
Founded in the spring of 2018 with our community partner BEST (Better Environmentally Sound Transportation), we purchased our first trishaw in the spring of 2019. In the Fall of 2020, we became a registered Society and now operate as Vancouver Cycling Without Age Society with charitable status, donations can be made through Canada Helps.
Our primary ride area is around the West End, Yaletown, False Creek, and the West Side of Vancouver. Our partners include senior centres, senior care homes, recreation centres, and organizations that support those with disabilities. Our primary passengers are seniors who are isolated and benefit from the opportunity to get out and enjoy the wind in their hair.
S.U.C.C.E.S.S family rides 2021
We also offer Community Rides from May to October from designated pick-up points including Leg-in-Boot square in Vancouver's False Creek.  We do not pick up from private homes. We require all passengers,  including their companions, to be vaccinated and sign passenger waivers. Our rides are by donation and we give priority to seniors who would enjoy the social connections with family and friends.
How You Can Help Us
BE A VOLUNTEER
We suggest a two-step process. First sign up for an Information Session during the months of March and April 2023 to view the trishaws, go for a ride, and learn about the program and the many different volunteer opportunities we offer. Second sign up to Volunteer. The Vancouver Chapter's primary ride dates and times are 7 days a week between 9-4 pm with each volunteer shift 3 hours.  Volunteer opporunities include as a passenger sitting with the senior creating conversation, pilots (bike rider), photographer, marketing, fundraising, grant writing, or operations.
BE A DONOR
We're looking for generous financial donors to help us with the operational costs of Cycling Without Age Vancouver, or in-kind donors to provide items or services of need. Donations can be given through Canada Helps.
BE A PARTNER
We primarily work with long-term care homes to design a regular program of rides, routes, and schedules. Let us take your seniors for a ride and give them the opportunity to feel the wind in their hair. Our partners include: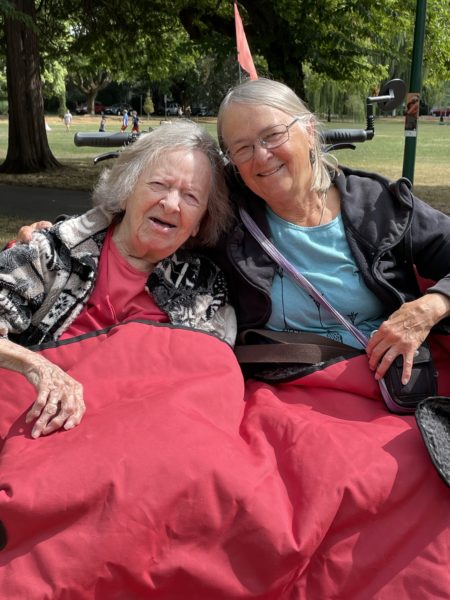 Windermere Care rides Summer 2021
BUILDING COMMUNITY
CWA is less about volunteering in the traditional sense of the word, and more about active citizenship. Citizenship is driven by a desire to get involved and to make a real difference for someone.
City of Vancouver presentation with founder Ole Kassow
OUR GUIDING PRINCIPLES
Generosity: Cycling Without Age is based on generosity and kindness. It starts with the obvious generous act of taking one or two elderly or less-abled people out on a bike ride. It's a simple act that everyone can do.
Slowness: Slowness allows you to sense the environment, be present at the moment and it allows people you meet along the way to be curious and gain knowledge about Cycling Without Age because you make time to stop and talk.
Storytelling: Elderly people have so many stories that will be forgotten if we don't reach out and listen to them. We tell stories, we listen to stories on the bike and we also document the stories when we share them via word of mouth or on social media.
Relationships: Cycling Without Age is about creating a multitude of new relationships: between generations, among the elderly, between pilots and passengers, nursing homes employees, and family members. Relationships build trust, happiness, and quality of life.
Without Age: Life does not end when you turn 75. Life unfolds at all ages, young and old, and can be thrilling, fun, sad, beautiful, and meaningful. Cycling Without Age is about letting people age in a positive context.
CWA Vancouver milestones:

CWA Vancouver Director & Pilot Jen Reid at CWA Western Conference 2019 Canmore Alberta
Cycling Without Age is based on generosity and kindness. It starts with the obvious generous act of taking one or two elderly or less-abled people out on a bike ride. It's a simple act that everyone can do.
Cycling Without Age Worldwide Facts As of  December 2021
Contact Us
Cycling Without Age Vancouver
vancouver@cyclingwithoutage.ca
www.facebook.com/cwavancouver
www.instagram.com/cwa_vancouver
Please note – we do not rent our trishaws
To purchase a trishaw of your own visit Velolifestyle

Facebook