September 2023 Newsletter
CWA Hamilton-Burlington has had a busy summer. Check out what the team has been up to in our September 2023 Newsletter!
Can't wait for the next newsletter? Check out and connect with us on our Instagram and Facebook accounts!
---
Good Shepherd clients go for a ride
---
July 2023 Newsletter
CWA Hamilton-Burlington is having a great 2023 season so far. Check out the details July 2023 Newsletter
---
Our Story is Spreading
CWA Hamilton-Burlington pilot, Alan Lambshead, shares his experience volunteering with our organization. Check out the article here.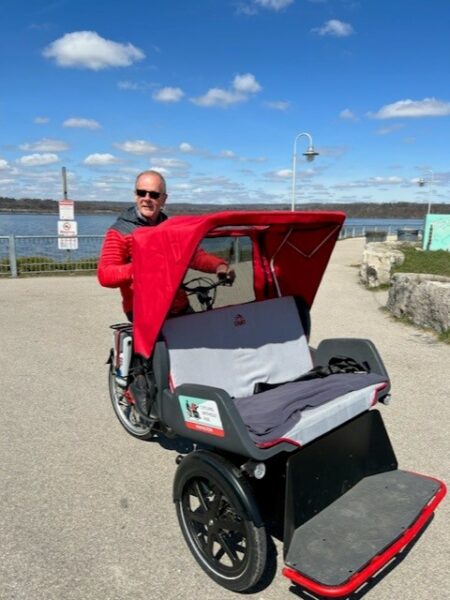 ---
Open Streets!
CWA Hamilton-Burlington is proud to be a part of Open Streets in Hamilton on June 18 from 10 am – 2 pm. Check out the details below for our location and other local businesses and organizations participating.
---
May 2023 Newsletter
CWA Hamilton-Burlington is off and running for the 2023 season. Check out the May 2023 Newsletter
---
How I became a pilot without ever leaving the ground
A fantastic article written by one of CWA Hamilton-Burlington's own pilots, Barry Rosen. Check it out here.
---
Spring is Here…along with our latest Newsletter
For the latest information on what is happening with CWA Hamilton-Burlington to kick off the start of the 2023 season check out the March 2023 Newsletter
---
Indoor Training
Please complete a hard copy of the Pilot Application and bring the completed copy with you to the indoor training sessions.
The required police checks can be started from the links in the Pilot application. Police Vulnerable Sector checks are not required to be completed prior to participating in the indoor training but must be available prior to taking passengers.
---
If you missed our live information sessions…..
We recorded them! Check it out the video here
CHCH has put together a great article on our need for new pilots. Check it out here.
---
Are you interested in being a Pilot?
With the days getting longer, trishaw season is just around the corner. For anyone interested in becoming a pilot we are holding Zoom information sessions in March. This will be in addition to indoor and outdoor training sessions on the trishaw in the upcoming months.
New Pilot Zoom information sessions:
Thursday March 23rd 7:30 pm
Tuesday March 28th 9:30 am
Additional information, including the Zoom information session link can be found here.
Welcome back to our returning pilot's! We will be scheduling refresher training in May and have been working to add additional centres in Burlington as well as weekend events in Hamilton.
---
Thank you Tracie's Place Restaurant and Karaoke
Whether you love to be on stage or prefer to sing in the shower, we have had a blast with our last 3 events at Tracie's Restaurant and Karaoke which have included a 50/50 fundraising draw. We have raised over $2,500 to date while enjoying fantastic food and music. Keep an eye on our Twitter Account, @CWAHamilton for upcoming nights!


---
RTOERO District 13 – Hamilton-Wentworth & Haldimand highlights CWA Hamilton-Burlington!
In October, members of RTOERO District 13 were treated to rides in our trishaw. Click here to read the wonderful article covering the experience in their Winter 2022 Newsletter
---
Annual Impact Report – 2022
Please click here to see our 2021 Annual Impact Report
---
November / December 2022 Newsletter
Please click here to see our November / December 2022 Newsletter
---
A Significant Loss for the HB CWA Family
Thursday September 29, 2022 was a sad day for our CWA chapter. Our cofounder, who along with Nancy has guided our chapter from the very beginning – Jill Axisa, passed away.
Jill was passionate about her community and a faithful friend to many as you can read here in her obituary.
It was Jill's perseverance that strengthened Nancy's resolve to keep working on starting the CWA chapter even when the cause seemed hopeless. Even in November 2018, when Jill and Nancy organized the first 'try a trishaw' and it poured rain, it was Jill that pulled it together and had us riding around one of McMaster's underground garages in a prototype trishaw.
Jill supported the project in many ways, from making presentations to various organizations, to connecting Nancy to researchers at McMaster. Jill made her last presentation on May 26, 2022 as a speaker at a McMaster hosted public panel called 'Inclusive Design on Active Aging'. Without a doubt she was the best speaker.
(Click here if you would like to see the presentation.)
The pictures below show Jill in November 2018 on that rainy day, and in May 2022 when we had so much fun with our own trishaw, down at the waterfront taking pictures for the upcoming panel presentation.
Jill, we will miss you dearly, and thanks for all your support.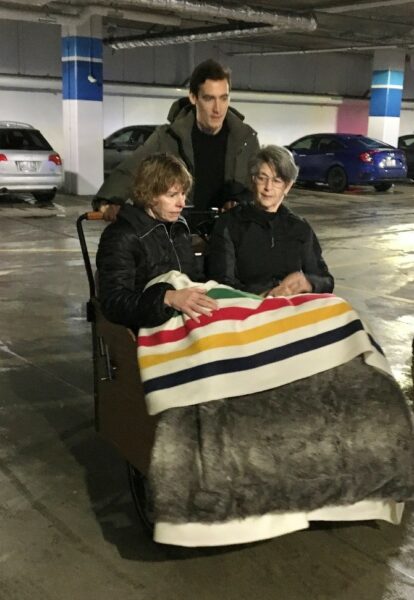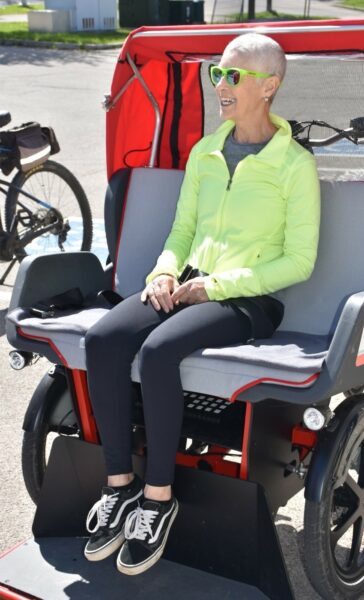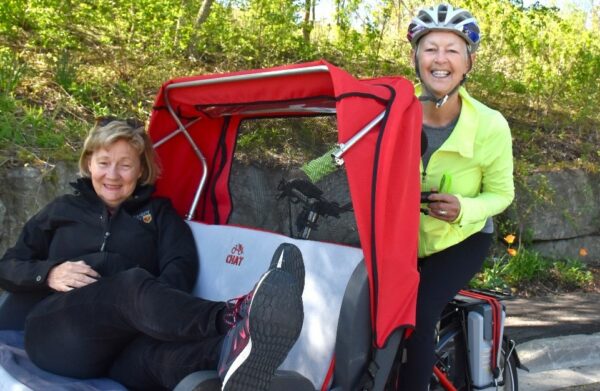 ---
September 2022 Newsletter
Please click here to see our September 2022 Newsletter
---
Thank you Project SPOTLIGHT
CWA has been fortunate to have Project SPOTLIGHT support the creation of the following video's highlighting the work of our CWA Hamilton-Burlington organization.

Click on the Project SPOTLIGHT logo to learn about this fantastic organization.
Our Beneficiaries
Our Volunteers
Our Donors
---
Chapter News
Our latest Chapter News comes via our Instagram Feed

Volunteer Pilots Needed
We are actively looking for volunteers. If you are interested, please don't hesitate to contact us by email.
Photos